La Pasta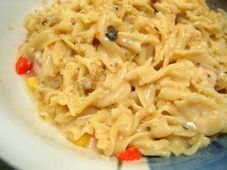 This time, it is an experiment with a well known products in Australian supermarkets : La Pasta from San Remo. So I bought a pack of
La Pasta - Chicken and Mushroom
here to rekindle my cooking times back in Melbourne :P and got a chance to tried it out last weekend.
I didnt have an oven or cream so I omitted that part. It turned out as a shocking experience for me as I've never tried following a real pasta recipe before other than lasagna so I was a bit shocked on how much liquid is required in the recipe, I reduced it by 1/2 cup but it still turned out OK.
The verdict: not too bad but I would prefer to try another variety next time. Was it because I didnt follow the exact recipe? I wouldnt know but the mushroom taste is purely MSG in my opinion.